The 'Automobile Trimmings Company' was founded over 60 years ago primarily as an exporter of leathercloth and automotive trimmings.
The company soon diversified and began to manufacture its very own rubber backed carpet, door seals and edge trims for what is now referred to as the classic car market.
Originally based in the East End of London, the company has proudly operated from the same factory in Stanmore (pictured below) for well over 35 years.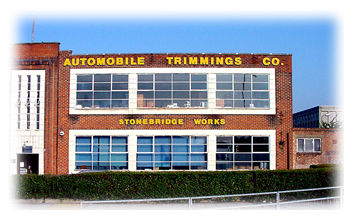 UK Manufacturing Plant
The company's longevity has a lot to do with the uniqueness of its trims, many of which are exclusive and made by no-one else.
Current manufacturing output can be divided into two - half is dedicated to door trims and seals while the remainder concentrates on our TCN/25 auto carpet. Finishing is also done on site and includes our very own steaming and rubber backing facilities.




---
(Within U.K.)
Tel : 020 8204 8242
Fax: 020 8204 0255
(Outside U.K.)
Tel : +44 208 204 8242
Fax: +44 208 204 0255